Progressive Controller

SPECTRALINK PROGRESSIVE CONTROLLER
Use our SpectraLink controller to create in-­house jackpots that generate revenue! Supporting nearly any progressive game interface, SpectraLink is easy to set­up. Game manufacturers and operators alike know the superior performance and reliability of Spectralink, and have come to know the fantastic customer support that comes with using Spectronix products.
Key Features Include:
Built-in LCD screen and keyboard support for easy set-up and management!
Does NOT require a laptop for setup!
Supports "True" Multi-Game/Multi-Denomination Links (for real!)
Supports up to four cabinet groups, with 16 levels each (acts like four controllers in one!)
Supports up to 128 games via Ethernet connection!
Optional support for SpectraLink backend management solution!
Supports linked progressive, Mystery jackpot and standalone progressive applications!
Dual Ethernet connections for advanced integration into your casino floor!
Interfaces to all popular progressive interfaces, including SAS 6.02.
Secure operation, reports all actions to on-board compact flash card!
Super familiar configuration screens are a snap to use!
Complete diagnostic capability means problems are quickly identified and fixed!
Our SpectraLink controller is a favorite for slot technicians because they can easily set-up and manage their slot operations. Most technicians have their complete progressive configuration up and running in less than ten minutes!  Contact us for technician testimonials!
SPECTRALINK INTERFACE BOARD (SIB3)
You can't have advanced features without an advanced game interface device.  Spectronix offers the most advanced and most up to date interface board ever designed for progressive and link bonus applications.  Our interface is super easy to use since it supports on-board user interface screen and button interface.  Have you ever wondered why progressive set-up is such a hassle?  It's because typical progressive system suppliers lack the technology inside their game interface.  You won't find that problem with Spectronix!
Key Features Include:
Built-in LCD screen and button interface for easy set-up and management!
Advanced network support with 10/100 Ethernet.
Supports all popular progressive protocols, including SAS 6.02.
Easy to use on-board diagnostics displays all issues for immediate resolution.
Invest in our SIB3, and and upgrade to APS without changing the interface!
Supports advanced AES-256 encryption standard.
All settings are non-volatile.
Easy to use Comm LED diagnostics.
Supports all serial interfaces, including RS-232, RS-485, DCS (opto) and Link (pulse based).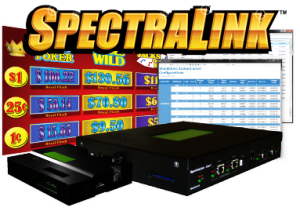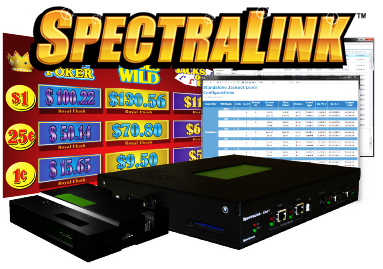 Need to enhance your house games? Need custom sign and progressive applications? Need cost effective revenue enhancing promotions that really work? Need a floor-wide progressive system you can trust?  Look no farther than Spectronix!
Our customers will tell you the SpectraLink controller is the best solution in the market!  Talk with those who know! Give us a call today at (702) 798-5355!  or contact us by email.