Hot Potato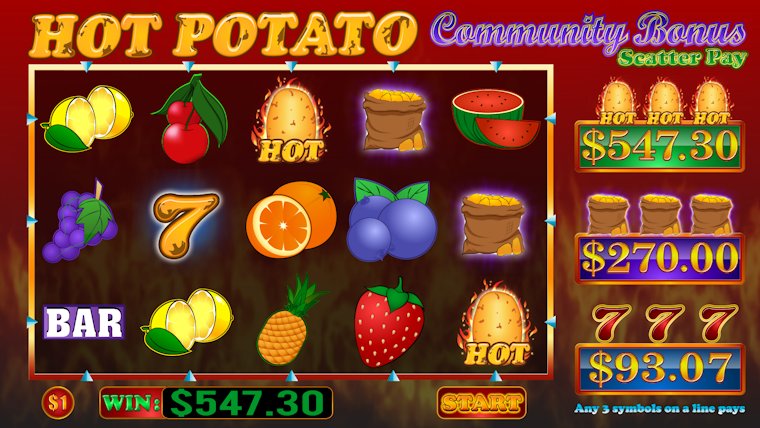 ---
Community Player Link Bonusing – The latest innovation to hit the gaming industry!
Olsen Gaming Inc (dba Spectronix) is proud to introduce a preview of HOT POTATO, another unique release in Olsen Gaming's line of award winning Community Game Link Bonusing™.  While other gaming equipment providers are desperately searching for the next revolution in gaming, Olsen Gaming already has it!   Our revolutionary vision is all about player interaction, and unique player experience.  We believe that our Community Player Link Bonusing will deliver the next generation gaming experience for players of all ages and demographics.  In addition, HOT POTATO is completely adjustable by the operator, putting you in full control of the pay-tables, payback percentage and pace of your bonus systems.
A new and innovative form of Link Bonusing
Olsen Gaming is proud to introduce "Hot Potato", the first title in yet another revolutionary form of link bonus. Based on our ground breaking inventions, Olsen Gaming is your exclusive supplier for this new form of interactive player gaming.
What's so innovative about Hot Potato? Imagine a mystery jackpot system with 100 times the action of standard Mystery jackpot!  Now imagine the Mystery jackpot action tied to a shared community game for all players to chase!  Hot Potato adds a new level of player excitement and player inter­action to your house games. Imagine you, the operator, easily creating your own pay-­tables and your own bonus pay schedules!  That's right!  For the very first time, OGI is bringing the first completely configurable gaming platform to your floor!  OGI believes that casino's need to maintain a unique player experience, not the same old thing everybody else offers!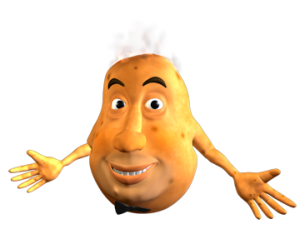 Hot Potato is highly innovative. Hot Potato is deployed as a shared community scatter pay board. The Hot Potato bonus game board is mounted prominently as an overhead progressive display in most installations. The shared scatter game board can also be displayed in the base game topper LCD.  When players wager on the underlying gaming machine, there is a chance the player triggers a community bonus game event. If they do, the bonus game carousel comes alive, and the bonus game action is there for all to see!
---
How does it work?
Pay-­tables are configured and assigned an increment percentage, the same type of increment percentage as in Mystery jackpot. The bonus system responds to the operator's configuration by automatically adjusting the hit frequency of the community board game symbols. During game play, a random bonus event triggers a game symbol, and if it completes a winning combination, the player wins the jackpot! The system is completely flexible and self regulating, and always performs within an accurate percentage payback with respect to total wagers.  The system configures nearly identical to a progressive jackpot.
Come join our gaming revolution today!
Hot Potato is scheduled to be released fourth quarter 2016.  See it at G2E expo 2016, Booth #3800
Hot Potato is a registered trademark of Olsen Gaming Inc. Hot Potato is covered by U.S. Patent No: 8,535,146 and 9,058,722 and is patent pending in the U.S. and abroad. Copyright © 2014-2016 Olsen Gaming Inc.